For adventure seekers, there's a wide range of water sports activities in Dubai to make the most of their experience in the gulf. No doubt the city of Dubai is popular for its lavish shopping avenues and chic lifestyle, but the clear blue waters of the Persian Gulf and sparkling beaches give an opportunity to cuddle in some of the most adventurous water sports in the globe. You'll be happy to know that watersports activities in Dubai go far beyond exploring the beaches. Let's guide you through some of the finest water sports activities Dubai has on offer:
Parasailing in Dubai: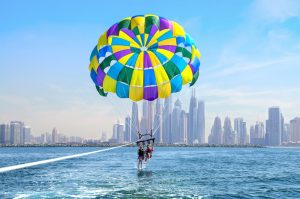 Are you afraid of skydiving, but still wish to fly like a bird? Give parasailing in Dubai a try. Here at Beach Riders Dubai, we can organize the safest & most memorable parasailing sessions in Dubai. We offer a complete range of parasailing deals for the safest possible parasailing adventure to cherish forever. At the height of 150m above the water, you'll get to witness the visual treat of gorgeous waters & the iconic marvels of Dubai. You will be provided all the safety equipment and our trained instructor will accompany you throughout your journey to ensure a safer and enjoyable parasailing experience.
Flyboarding in Dubai:
The Flyboard lets you surf the sea, swim underwater, and even fly up to ten meters above the surface of the water. An adrenaline rushing activity, flyboarding is a must try whenever you are in Dubai. The best thing about this water sports is it can be enjoyed on all days, so no concern about the climate.
Beach Riders Dubai offers affordable flyboard rental in Dubai to offer you the much required adrenaline pump. Our well-trained flyboard operator will control the throttle of the wave runner, so all you need to do is fly to the fullest.
Deep Sea Fishing In Dubai:
The massive coastline of Dubai makes deep sea fishing a main part of Dubai's culture. As one of the biggest sailfish destinations in the globe, Dubai has the privilege to host innumerable famous sea fishing aficionados & mariners in the Middle East. Deep sea fishing in Dubai is a perfect water sport to enjoy with friends and family. If you are fortunate you may catch fishes like Kingfisher, Sultan Ibrahim, BlueFin Tuna, Barracuda, and Trevally among others.
Speed Boat Riding In Dubai:
Whether you are in search of a unique sightseeing experience, a fun-filled team-building exercise with your colleagues or a leisurely group excursion, speed boat Dubai delivers the thrill you are exactly looking for. Beach Riders Dubai can arrange speed boat tours in the water of Dubai to double your fun.
We can arrange a specialized speed boat ride to take you on an expedition through Dubai's most exclusive waterfront developments; from Dubai Marina & Jumeirah Beach Residence to Atlantis & the Burj Ai Arab.